Sadtakij Wattana Karnyang Co., Ltd.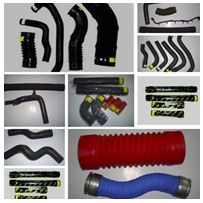 บริษัท เศรษฐกิจ วัฒนาการยาง จำกัด
175-177 ซอยเฉลิมเขต 2 ถนนบำรุงเมือง แขวงวัดเทพศิรินทร์ เขตป้อมปราบศัตรูพ่าย กรุงเทพ ฯ 10100
Tel: +(662) 6216426-8, 2237825, 2230690 Fax:+(662) 2252392, 8081662

"QUALITY" we trust
Automotive EPDM/Silicone rubber radiator hoses
New product
High Performance Reinforced Silicone Radiator Hose for Turbo engine/racing car cooling system
Specifications

Type

Radiator Hose

Size tolerance:

+/- 0.5mm

Straight

180 degree

material

silicone

Working pressure

0.3-0.9 Mpa

Working Temperature:

-50°C——260°C

Hardness

50±5

Tensile Strength

≥6.5Mpa

Diameter:

6-100mm

Color:

Blue color

Elongation

≥320

Tearing Strength

≥20.0Kn/Sq.m

Thickness Range

2mm-5mm ,
1-4ply

Breakdown Voltage

20-25KV/mm

Place of Origin:

Bangkok, Thailand

Brand Name:

WN
Nature of Business
We manufacture various types of automotive rubber radiator hoses & rubber molded parts for domestic and export markets. We continually quality improvement to ensure our customer's satisfaction.
The integrity for our local and overseas customers in terms of quality with competitive price
achieve continuous growth and productivity.
Being aware of new market opportunities and development, WN rubber hoses are high on quality with EPDM rubber raw material which can be serviceable over an operating temperature of 130-150 degree Celcius and resists to weather, ozone and different atmospheric conditions.
To strengthen the hoses, the high performance yarn are designed to reinforce and meet stringent international standards which are resistance to pressure, ozone, weathering, heat and flex cracking resistance.
Radiator hoses molded to fit specific applications to meet OEM specifications; Features re-engineered materials that resist vacuum collapse; Designed with heat and ozone resistant cover; engineered to resist electrochemical degradation which is the leading cause of hose failure.
The EPDM rubber compound tested by the Rubber Technology Division, Rubber Research Institute of Thailand, Dept. of Agriculture to ensure its quality that meets with our customers' satisfaction.
For website visit http://www.thaihose.com